(Shut up and listen)
Laboratoire Kontempo, 2022
Kinshasa, RDC / Berlin / Haus Der Statistik

Kanga Munoko Yoka "Shut up and listen" is a series of listening sessions filmed during the
Kinzonzi exhibition program in Kinshasa. The film accompanies the founders of explosive music collective "Fulu Miziki '' Pisko Crane and Aicha Mena Kanieba in their artistic process. From the creation of musical instruments and 'eco' fashion, to intimate rehearsals. and unexpected musical performances in the National Museum of the DRC.
Kanga Munoko Yoka proposes a 'listening positionality' as a way of entering in relation
with the radical diversity of musical worlds in Kinshasa. Moving beyond western representations of otherness and categories of exotic 'world music', shifting towards artistic freedom and its interaction with musical embodiment and environmental action.
The video piece is accompanied by Pisco Crane and Aicha's mask creation 'Luba' which
represents the beauty of the women of Kasaï in India.
Watch film
here
'Deja que suene el rio"
Laboratoire Kontempo, 2022
Kinshasa, RDC

Mutu - Mutu is a listening documentary that enters in relation with the musical worlds inhabiting the Congo river.
Produced within the framework of Kinzonzi exhibition by
Laboratoire Kontempo.
Watch film
here
Owned by Others, Berlin 2020
Sonora investigates the soundscapes of the Museum island in Berlin by mapping the traveling memories of musicians whose music resonates in the corners, pathways, bridges and corridors of the Island. The musicians form part of a complex constellation of musical genealogy and journeys of migration. Miguel continues to examine these soundscapes by drawing the disparities between tourists, business people, 'locals' and 'others'.
Watch performance
here
Sonic Interventions
Owned by Others, Berlin 2021
In an attempt to counteract the impersonal presentations of Museum Island given by its institutions, artist Miguel Buenrostro has brought together different musicians that earn a living playing music for visitors, locals and workers in the streets of Museum Island. Normally a touristic zone characterised by anonymous encounters and communicative neglect, the Museum Island is set up as a stage for new, meaningful encounters.
Watch performance
here
Film still, Radical Mnemonics, 14" Film, HD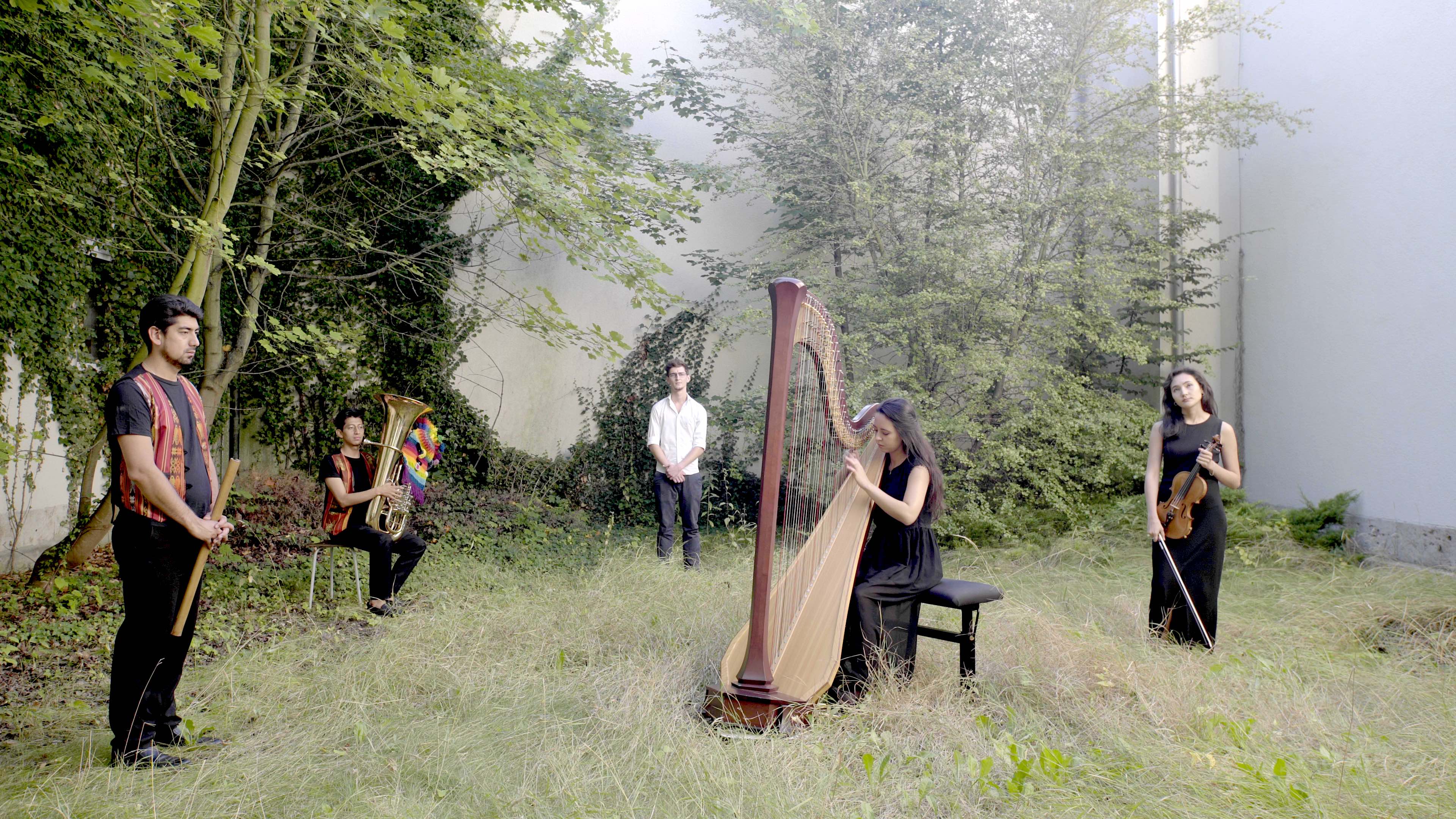 'Sonic Diaspora', is an ongoing research - listening exercise that reflects on ways of inhabiting Europe through musical embodiment. Thinking / feeling along journeys of migration, trajectories, places of origin and stories of plural sonic worlds. Sonic Diaspora is a constellation of musical memories in collaboration with musicians of Latin American background based in Berlin.
Watch / listen excercises
here
Watch film
here